What is LotteFree?
LotteFree is a great way to earn high winnings with Free YEM (FYEM). For example, with your welcome bonus for signing up to SafeZone, the Proof of Activity (POA) Rewards you get for posting on WazzUb Forum, on PRO OR NO or on Twnkl Soccer. You can win a 6-digit YEMPOT, which will even be paid out in REGULAR YEM. What an awesome opportunity!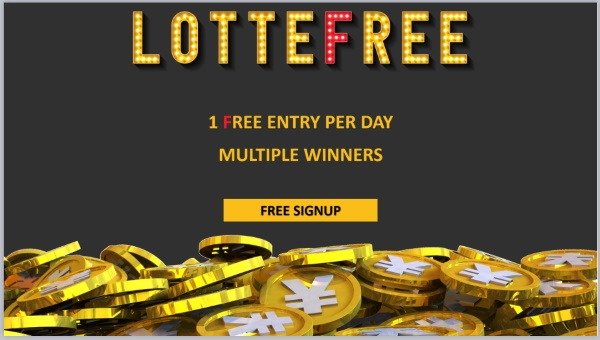 It's free to join (as with all our projects); you receive 1 FREE entry everyday, and there could be multiple winners each day.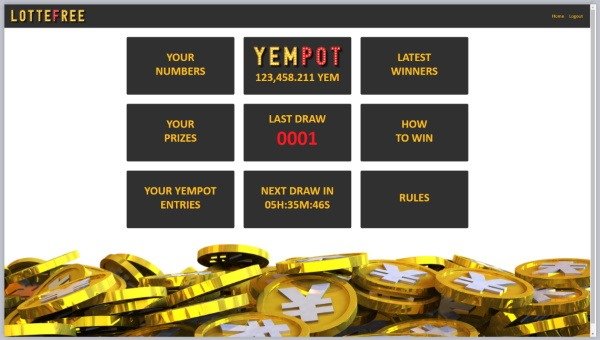 Log in with your SafeZone Pass and place your first free entry. The middle square, second row, shows the last draw entry of 4 numbers between 0-9. Also, you can see in the top middle square, YEMPOT, see details below.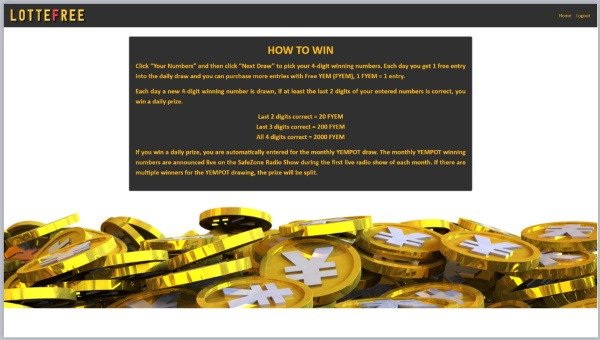 How to Win?
As shown, just click "YOUR NUMBERS" and then click "NEXT DRAW" to pick your 4-digit winning numbers. Each day you get 1 free entry into the daily draw and you can purchase more entries with Free YEM (FYEM). 1 FYEM = 1 entry.
But, if you want to enter more draws on any given day, you can do that with your FREE YEM. Keep in mind, you can only spend your FYEM in LotteFree, NOT regular YEM.
There are lots of ways to collect FYEM such as: making statements at PRO or NO!, participating at WazzUb, participating in PrizeMania's daily prize draws and lots of other things.
Each day a new winning 4-digit number is drawn, and if at least the last 2 digits of your entered numbers is correct, you win a daily prize.
There are 3 ways to win a daily prize:
Having the last 2 winning digits correct, you win 20 FYEM.
Having the last 3 digits correct, you win 200 FYEM.
Having all 4 digits correct, you win 2,000 FYEM.
Now for the cool YEMPOT part:
If you win a daily prize, you are automatically entered for the monthly YEMPOT draw.
The monthly YEMPOT winning numbers are announced live on the first SafeZone Radio Show of each month.
If there are multiple YEMPOT winners, then the prize will be split.
Now something very, very super cool:
While you win FYEM on the daily prize draws, if you win the monthly YEMPOT draw, then that is regular YEM!
LotteFree Rules:
Everyday, a new winning number is drawn in the daily free lottery.
Winners' prizes are automatically booked to their PerNum Multi Wallet.
All daily winners are automatically entered for a chance to win the BIG monthly YEMPOT prize.
Every member 14+ years (if not prohibited by your country's national law), is allowed to participate at LotteFree.
Daily prizes are paid in FYEM (which can NOT be converted into cash) and the monthly YEMPOT is paid in regular YEM!
Each member has 1 Free entry per day.
Additional daily entries can be done with FYEM only.
Very importantly, LotteFree is a prize draw, it is NOT gambling.
No purchase is needed to win a prize. A purchase, payment or activity of any kind, will NOT increase your chances of winning.
LotteFree is part of PrizeMania, so besides the specific rules mentioned above, the PrizeMania terms also apply to LotteFree.
How You Enter:
In the top left box, click "YOUR NUMBERS" and then click "NEXT DRAW" to pick your 4-digit winning numbers.
Your Next Draw Numbers:
As you see, there are 2 buttons: First, go to ENTER 4 DIGITS square and enter the 4 digits of your choice, whatever it is you want to choose, through 0-9.
Once you've entered your numbers, click ADD TO NEXT DRAW and right below you will see your selected numbers for the next draw.
Since you get your first draw free each day, it pays to come and at least get your free entry every day, and you can just spend FYEM if you want to enter more than 1 draw – it's very quick and straightforward.
There's no limit, you can enter as many draws as you want! 1 YEM = 1 entry (apart from your first free entry), so for example 20 more entries will automatically withdraw 20 FYEM from your PerNum Wallet.
As you see here in the LOTTEFREE YEMPOT, there is 123,458,211 YEM, which at today's value, is almost half a million USD!
This is super exciting, and especially for those of you who are our newest members joining us, who have only so far been able to get regular YEM through the YEMExchange and purchasing from another YEM holder. This now is your chance to build up: firstly, your Free YEM (FYEM) by participating in the daily LotteFree and the activities mentioned above, and secondly, at the same time, you could also build your regular YEM fortune by winning a monthly YEMPOT draw!
---

---
Comments
comments